Mehr zu C&C Generals 2 (canceled)
Nicht nur Replays, auch der Zuschauermodus erst später
---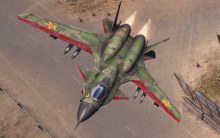 25. Mai 2013 von moby3012
---
Im neuen Ask a Dev Interview mit Bryan Farina erklärte der Entwickler, wie wichtig eSports Features für Victory Games sind und hat 2 schlechte Nachrichten.
Im Bereich des E-Sports glänzen derzeit vor allem Titel wie League of Legends oder Starcraft 2 mit hervorragenden Spieler und vor allem Zuschauerzahlen. Die Profis teilen ihre Replays, so dass jeder sich über die aktuellen Top Strategien informieren kann und eine Atmosphäre der Transparenz geschaffen wird. Brian Farina kündigte nun im Ask-a-Dev Interview an, dass man sich der Wichtigkeit des Replay- und Zuschauermodus bewusst sei und jene hoch in der Prioritätenliste stünden, dennoch würden eben jene Features erst später in das Spiel integriert werden.
Hofft ihr den Weg von Starcraft II und League of Legends Richtung eSports zu gehen?
E-Sport ist ein Langzeitziel für Command & Conquer. Wir haben einen riesigen Berg von Arbeit vor uns das Spiel und die dazu benötigten Features E-Sport-fertig zu bekommen. Dinge wie Replays und Zuschauermodus werden keine Tag-1 Features sein (hier Witz darüber, dass sie Day[9] Features sind), aber sie haben eine hohe Priorität auf unserer Liste.
Wie wichtig der Community ein Replaysystem ist lässt sich übrigens an unserer Umfrage im Forum sehr gut ablesen: Ab Wann muss ein Replaysystem verfügbar sein?
---
Kategorie(n): News | Tag(s): Spekulationen | Spiel(e) C&C Generals 2 (canceled) News,
---