Mehr zu C&C Remastered Collection
Neues AMAA diesen Freitag! Letzte Chance für eure Fragen!
---
27. Mai 2020 von moby3012
---
Die Kommunikationsflaute zu den Command and Conquer Remasters, infolge der Covid-19 Krise wurde mit der Ankündigung für Mods in C&C Remastered offiziell beendet und nun etwa 7 Tage vor Release der Neuauflagen gibt es eine weitere Gelegenheit für euch eure Last-Minute Fragen an das Entwicklerteam loszuwerden. Diesen Freitag findet im offiziellen Command and Conquer Reddit ein AMAA mit den Jungs von EA/Petroglyph statt.
Hier findet ihr noch einmal die Fragen und Antworten des letzten AMAA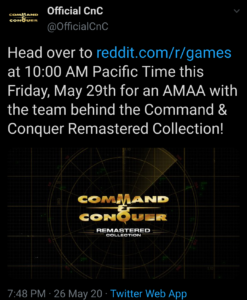 ---
Kategorie(n): News | Tag(s): Spieleentwicklung | Spiel(e) C&C Remastered Collection News,
---