Mehr zu C&C Generals 2 (canceled)
Multiplayer im Fokus und Gefechtsmodus von Beginn an!
---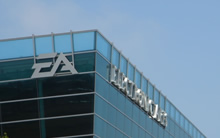 13. Februar 2013 von moby3012
---
Im offiziellen Forum von Command & Conquer (2013) äußerte sich EA_CIRE zum aktuellen Entwicklungsfokus von C&C (Generals 2) und bestätigt einen Gefechtsmodus von Anfang an.
Nach dem Release des ersten offiziellen C&C Generals 2 HD Screenshots mit Fokus auf die zweite große Partei in Command & Conquer (2013), der GLA gibt es nun auch Details zu den integrierten Spielmodi und dem Fokus der Entwicklung des Spiels. Golabl Community Manager Eric "EA_CIRE" Krause äußerte sich im offiziellen Forum zu der Frage nach dem Multiplayermodus mit einigen interessanten Details. So fokussiert sich das Team derzeit mit dem anstehenden Release der Beta in den kommenden Monaten vor allem auf den Multiplayermodus. Weiterhin bestätigte er, dass es bereits zum Start einen Gefechtsmodus im neuen Echtzeitstrategietitel von Victory Games geben wird. (via)
Weiterhin geht er noch einmal darauf ein, dass man das Spiel als Live Service versteht und ihnen vor allen Dingen eine gute Basis wichtig sei. Es wird in Zukunft eine Kampagne geben, diese wird als Teil des Live Service Models verstanden. Diese stehe jedoch zunächst hinter der grundsätzlichen Entwicklung eines großartigen Spielgefühls an. Gelingt dies, freue sich das Team bereits darauf eine qualitativ hochwertige Kampagne zu liefern.
We're starting very MP focused, indeed, but being a live service where we will add content and improve it overall over time, this will give us the opportunity to extend into the areas our players want more content in! And this to me is one of the big opportunities with our new live service model – adapt and improve through consumer metrics and feedback! This isn't a promise that we definitely will have a campaign in the future, unfortunately. I know how many of you are looking for a great campaign, but we are focusing on creating a great basic game experience first – And if we get the opportunity to make a campaign that fulfills certain quality standards, the team would be excited to take this task on!
And Skirmish will be in from the start
Zusammen mit der heute getätigten Distanzierung vom Pay2Win Konzept kann man also bereits ein erstes Gefühl dafür entwickeln, in welche Richtung das Monetarisierungsmodell von C&C (Generals 2) gehen wird.
---
Kategorie(n): News | Tag(s): Beta, Monetarisierung | Spiel(e) C&C Generals 2 (canceled) News,
---