Mehr zu C&C Tiberium Alliances
Endgame Sneak Peak Forgotton Colossus und ein Rechenfehler
---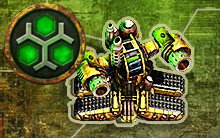 22. Januar 2013 von moby3012
---
EA hat eine weitere Vergessenen Einheit des Endgames enthüllt. Den Forgotton Colossus. Auch interessant, 3 Millionen Basen werden in der Global Community Challenge nicht fallen.
Wie Phenomic auf ihrer Facebook Seite bekanntgeben werden (wie von unseren Forenmitgliedern erwartet) nicht 3 Millionen Basen der Vergessenen in einer Woche fallen. In einem Script zur Global Community Challenge (wir berichteten) war ein Fehler enthalten und es werden lediglich 300.000(?) Basen benötigt um das Ziel zu erreichen.
Gratulation!
Eure harten Kämpfe am Wochenende haben euch in unserer "Global Community Challenge" bereits über den ersten Meilenstein hinaus gebracht. Als kleine Randbemerkung: Das angekündigte Ziel von 3 Millionen Basen beruht unglücklicherweise einer defekten script Berechnung, aber dies kann in Prototyp-Events nun mal vorkommen. Wir waren trotzdem in der Lage, euren Fortschritt seit Beginn des Events zu berechnen und ihr schlagt euch fantastisch! Über 100.000 Vergessenen-Basen sind bereits zerstört.
Glückwunsch noch mal dazu, ihr rockt! Wir entschuldigen uns für die kleine Zahlen-Verwirrung, aber wie bereits versprochen gibt es hier eure Belohnung für das Erreichen des ersten Meilensteines: eine neue exklusive Vorschau auf das kurz bevorstehende Endgame!
-quelle-
Da bereits 100.000 Basen gefallen sind gibt es als Sneak Peak die nächste Vergessenen Einheit. Mehr Artworks findet ihr in unserer Galerie.

Korrektur auch bei dem vorherigen Artwork. Die Einheit bezieht keine Lebenspunkte aus Schüssen, die auf sie abgefeuert werden, sondern durch den Schaden den sie an Fahrzeugen anrichtet.
Speaking of which, in regards to the grammar of the legible text, the meaning is this:
"Converts damage dealt to enemy vehicles into health"
I hope that clears any confusion.
-quelle-
---
Kategorie(n): News | Tag(s): Updatenotes | Spiel(e) C&C Tiberium Alliances News,
---