Mehr zu Act of Aggression
Meldet euch für die Beta an
---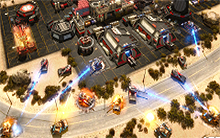 6. Mai 2015 von moby3012
---
Spielt das vielversprechende RTS Act of Aggression im Mai in der Betaphase an. Auf der neu gelaunchten offiziellen Website könnt ihr euch anmelden und weitere Infos zum Spiel ergattern.
Die Pläne der Entwickler von Act of Aggression sind sportlich: Der Release des Spiels ist nach wie vor für den Mai geplant, und noch zuvor soll eine Betaphase stattfinden. Für diese könnt ihr euch hier registrieren. Stattfinden wird sie in einem recht kurzen Zeitraum, an dem Wochenende vom 15. Mai bis zum 17. Mai. Spielbar wird hier nur die US Fraktion sein.
Darüber hinaus könnt ihr euch auf der neu gelaunchten Website zum Spiel weitere Informationen holen sowie die bisherigen Trailer und Screenshots ansehen. Der dazugehörige Act of Aggression Blog bietet noch eine kompaktere Übersicht über News zum Spiel.
Wir sind gespannt, ob der kurze Beta-Zeitraum und die Limitierung auf eine Fraktion ausreichend sein wird, um das Spiel vor Release noch gründlich zu testen und Fehler auszumerzen. Was meint ihr? Teilt es uns in den Kommentaren mit!
---
Kategorie(n): News | Tag(s): Beta | Spiel(e) Act of Aggression News,
---