Mehr zu C&C Generals
Generals World Series 2011
---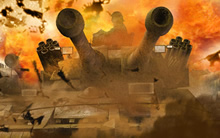 26. November 2011 von moby3012
---
Viel tut sich dieser Tage, vergleichsweise in Sachen E-Sport im Command & Conquer Bereich – verglichen mit den vergangenen Monaten, so läuft derzeit nicht nur der Zero:Hour 2on2 Silver Cup von Gamereplays, sondern in wenigen Tagen endet ebenso die Qualifikation des ClanWars World Series Turniers 2011. Gespielt wird hier C&C Generals. Für die Endrunde können sich insgesamt die 32 besten Spieler qualifizieren.
Der Turniermodus ist 1on1 Singleelimination
1. – 3. Runde Best of 3
4. Runde Best of 5
Finale Best of 7
GenTool ist Pflicht!
Random vs. Random ist erlaubt
Der Gewinner des Turniers kann sich über 150 $ Preisgeld freuen. Für mehr Details und zur Anmeldung gelangt ihr
hier
bei Gamereplays.org.
---
Kategorie(n): News | Tag(s): eSports | Spiel(e) C&C Generals News,
---