Mehr zu C&C Tiberium Alliances
Free Funds Friday #10: Die Gewinner
---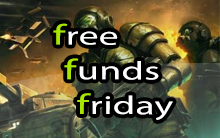 13. Mai 2013 von moby3012
---
Wir präsentieren, die Gewinner des 10. Free Funds Freitags. Erfahrt ob euch die Glücksfee hold war.
We present the winners of the 10th Free Funds Friday. Check out if you are lucky.

Deutsche Version

English Version
Free Funds Friday
(German Version below)
This week we asked you in our returning Free for Funds Friday whether you are limited by CP or by repair time. In our poll the majority of 74,77% replied with "repair time" while 23,36% voted "CP". 1,87% stated that they are rather limited by supply points.
Now let's announce the lucky winners!
1000 TA Funds, 48h repair time storage (1 week) and 12 CP go to:
ruicosta21
Dred41
wawrzyn23
balu0828
Gonzo1983
Luggi
All winners please contact freezy until the 30th of May 2013 via personal message to collect your winnings.
Free Funds Freitag
Diese Woche haben wir Euch in unserem wöchentlichen Free Funds Freitag gefragt ob ihr eher durch fehlende CP oder Reperaturzeit eingeschränkt werdet. In unserer Umfrage beantwortete dies eine Mehrheit von 74,77% mit "Reperaturzeit", während 23,36% für "CP" gestimmt haben. 1,87% gaben an eher durch Versorgungspunkte eingeschränkt zu sein.
Lasst uns nun die glücklichen Gewinner bekanntgeben!
1000 TA Funds, 48h Reperaturzeitspeicher (1 Woche) und 12 CP gehen an:
ruicosta21
Dred41
wawrzyn23
balu0828
Gonzo1983
Luggi
Alle Gewinner kontaktieren bitte freezy bis zum 30.05.2013 mit einer persönlichen Nachricht um ihre Gewinne abzuholen.
---
Kategorie(n): News | Tag(s): Codes, Free Funds Friday | Spiel(e) C&C Tiberium Alliances News,
---