Mehr zu C&C Tiberium Alliances
Free Funds Freitag #7: Die Gewinner
---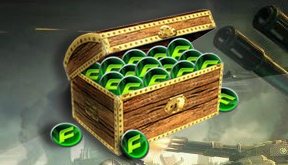 22. April 2013 von moby3012
---
Wir präsentieren, die Gewinner des 7. Free Funds Freitags. Erfahrt ob euch die Glücksfee hold war.
We present the winners of the 7th Free Funds Friday. Check out if you are lucky.

Deutsche Version

English Version
Free Funds Friday
(German Version below)
This week we asked you in our returning Free for Funds Friday whether you feel that Tiberium Alliances is a pay2win game. In our poll the majority of 69,80% (104 users) replied with "yes" while 23,49% (35 users) voted "no". 6,71% (10 users) stated that they pay but still never win.
Here are the lucky winners:
1000 TA Funds go to:
POZEHA
marwai
alin21
weird
sw33tsilenc3
900 CP storage capacity goes to:
piotr_ilici
All winners please contact freezy until the 7th of May 2013 via personal message to collect your winnings.
Free Funds Freitag
Diese Woche haben wir Euch in unserem wöchentlichen Free Funds Freitag gefragt ob ihr Tiberium Alliances als Pay2Win Spiel empfindet. In unserer Umfrage beantworteten dies 69,80% (104 Benutzer) mit "ja", während 23,49% (35 Benutzer) für "nein" gestimmt haben. 6,71% (10 Benutzer) gaben an nur zwar zu zahlen aber dennoch nie zu gewinnen.
Hier sind die glücklichen Gewinner:
1000 TA Funds gehen an:
POZEHA
marwai
alin21
weird
sw33tsilenc3
900 CP-Speichererweiterung gehen an:
piotr_ilici
Alle Gewinner kontaktieren bitte freezy bis zum 07.05.2013 mit einer persönlichen Nachricht um ihre Gewinne abzuholen.
---
Kategorie(n): News | Tag(s): Codes, Free Funds Friday | Spiel(e) C&C Tiberium Alliances News,
---