Mehr zu C&C Tiberium Alliances
Free Funds Freitag #3: Die Gewinner
---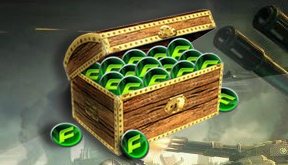 25. März 2013 von moby3012
---
Wir präsentieren, die Gewinner des dritten Free Funds Freitags. Erfahrt hier ob euch die Glücksfee hold war.

Deutsche Version

English Version
Free Funds Friday
(German Version below)
This week we asked you in our returning Free for Funds Friday whether Tiberium Alliances was your first Command & Conquer. An overwhelming majority of 75% (125) users replied that it is not. Again we had one brave fellow who was honest about needing the funds for Lord of Ultima. Here are the lucky winners:
1000 play4free Funds go to:
thielkie
Sim
ThePsychoking
Cirius09
Sammy_Fable
900 CP storage capacity goes to:
cripplededu123
Please contact freezy until the 15th of April 2013 via personal message to collect your winnings.
Free Funds Freitag
Diese Woche haben wir Euch in unserem wöchentlichen Free Funds Freitag gefragt, ob Tiberium Alliances euer erstes Command & Conquer ist. Mit überwältigender Mehrheit 75% (125 Benutzer) habt ihr dies verneint. Wiederrum hatten wir eine Person, die zuzugeben hat nur wegen Lord of Ultima teilzunehmen. Hier sind die Glücklichen Gewinner:
1000 play4free Funds gehen an:
thielkie
Sim
ThePsychoking
Cirius09
Sammy_Fable
900 CP-Speichererweiterung gehen an:
cripplededu123
Bitte kontaktiert freezy bis zum 15.4.2013 mit einer persönlichen Nachricht um eure Gewinne abzuholen.
---
Kategorie(n): News | Tag(s): Codes, Free Funds Friday | Spiel(e) C&C Tiberium Alliances News,
---