Mehr zu Act of Aggression
Beta Erkenntnisse – nachher ist man immer schlauer
---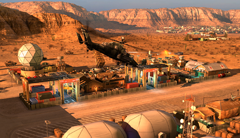 31. Mai 2015 von moby3012
---
Die Beta zu Act of Aggression war nicht lang, dennoch haben die Entwickler viel wertvolles Feedback von den Spielern erhalten. Dies haben sie nun ausgewertet und in statistischer Form veröffentlicht. Hier habt ihr einen Überblick der wichtigsten Punkte.
Die Beta zu Act of Aggression hat es uns ermöglicht, an 3 Tagen das Spiel mit der USA Fraktion auf 3 unterschiedlichen Karten anzutesten. Dabei ist viel wertvolles Feedback enstanden, welches die Entwickler bereits ausgewertet haben. Auf ihrer Seite haben sie es in kompakter Form veröffentlicht und auch einige Statistiken mitgeliefert.
Die Meinung zum Spiel fiel überwiegend positiv aus, doch gab es natürlich auch einige kontroverse Punkte. Die wichtigsten lauten wie folgt:
Das Zoomlevel nach außen war vielen nicht groß genug. Es wird überlegt die Höhe der Gebäude zu senken und Minimap sowie die Satelliten-Ansicht zu verbessern.
Die Ressourcennetzwerke mit den Nachschublinien waren vielen Spielern zu komplex, Ressourcen aus Außenposten sollen nun auch automatisch in der Hauptbasis verfügbar sein.
Spielgeschwindigkeit: Der Ablauf der Kämpfe war vielen Testern zu schnell, sodass man nur schlecht auf Beschuss reagieren konnte, während das Ressourceneinkommen vielen zu langsam und hat das Spiel in den frühen Stadien zu sehr in die Länge gezogen. Beide Probleme sollen adressiert werden.
Das Steuern von Flugeinheiten wurde bemängelt und soll verbessert werden.
Allgemein waren viele Spieler zufrieden mit der Beta, mehr als 75% geben ihr eine Wertung von über 7/10, mehr als 50% eine Wertung über 8/10 und mehr als 25% 9/10 oder mehr. DIe Aufteilung des Ressourcensystems in mehrere Rohstoffe fand ebenfalls Gefallen, ebenso wie die verfügbaren Maps und der Tech Tree. Genauere Statistiken könnt ihr hier einsehen.
Falls ihr nicht selbst an der Beta teilnehmen konntet, könnt ihr euch bei uns im Forum ein paar Videos von 1on1 und 2on2 Matches anschauen.
Was haltet ihr bisher vom Spiel? Teilt es uns in den Kommentaren mit!
---
Kategorie(n):
News
| Tags:
Beta
---