Mehr zu Act of Aggression
Neuer Act of Aggression Trailer zeigt C&C ähnliches Gameplay
---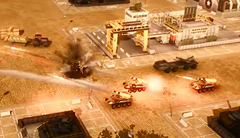 12. März 2015 von moby3012
---
Eugen Systems veröffentlichten einen neuen Gameplay Trailer zum kommenden RTS Spiel Act of Aggression. Das scheint nicht nur ein stimmiger Act of War Nachfolger, sondern eventuell auch ein neues Zuhause für C&C:Generals Liebhaber zu werden. Doch seht selbst.
Das im Mai erscheinende Echtzeitstrategiespiel Act of Aggression verspricht nicht nur ein würdiger Nachfolger des Vorgängerspiels Act of War zu werden, sondern auch C&C Generals Fans ein neues Zuhause bieten zu können, denn beim Gameplay gibt es viele Parallelen. Doch überzeugt euch selbst anhand des neuesten Trailers, den Eugen Systems veröffentlicht haben:
Was haltet ihr davon? Ist das nach dem C&C-Aus die neue Hoffnung für viele Generals Liebhaber?
---
Kategorie(n): News | Tag(s): Trailer | Spiel(e) Act of Aggression News,
---