Mehr zu C&C Alarmstufe Rot 3
The Red Alert 1 ist da!
---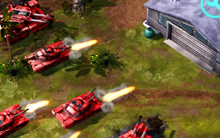 21. September 2011 von moby3012
---
The Red Alert ist eine Alarmstufe Rot 3 Modifikation, welche das Flair und die Einheiten des klassischen Alarmstufe Rot in die Sage Engine von Alarmstufe Rot 3 portiert.
Heute ist die Alarmstufe Rot 3 Total Conversion "The Red Alert" erschienen. Dieser Mod bringt die klassischen Alarmstufe Rot Fraktionen mit Einheiten, Superwaffen und Gebäuden ins Spiel und integriert mit Ländern wie Griechenland oder der Türkei sogar neue Fraktionen, sowie viele neue Maps. Auch der komplett undurchsichtige schwarze C&C Nebel des Krieges ist in diesem Mod vorhanden. Die KI "Künstliche Inteligenz" ist recht gut, kommt mit dem Basenbau zurecht und kann Einheiten kaufen.
---
Kategorie(n): News | Tag(s): Mods, Trailer | Spiel(e) C&C Alarmstufe Rot 3 News,
---