Mehr zu Act of Aggression
Gameplaytrailer für die US Army
---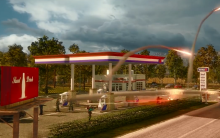 11. April 2015 von moby3012
---
Eugen Systems hat einen neuen Gameplaytrailer veröffentlicht, der die US Army, eine der drei Fraktionen in Act of Aggression, näher vorstellt. Schaut rein um euch bereits einen Überblick über die Stärken und Schwächen zu verschaffen.
Der neue Gameplaytrailer zu Act of Aggression zeigt wieder ein Mal vielversprechendes Gameplay. Diesmal steht die US Fraktion im Mittelpunkt, welche mit realistischen militärischen Einheiten der heutigen Zeit anrückt. Der Trailer erläutert gleichzeitig Stärken und Schwächen der Fraktion. Schaut also rein, wenn ihr euch bereits einen strategischen Vorteil verschaffen wollt:
Gefällt euch die Fraktion?
---
Kategorie(n): News | Tag(s): Trailer | Spiel(e) Act of Aggression News,
---