Windows 7 Installationshinweise
C&C Generals Guide
---
Das Spiel C&C Generals erschien noch im Jahre 2003, also für über 9 Jahren, wo es noch niemanden auf der Welt gab, der über Dinge wie Windows Vista oder Windows 7 geredet hat. Dies führt dazu, dass es heute natürlich keinerlei Überraschung ist, wenn Spiele wie C&C Generals heutzutage auf diesen System unter Umständen nicht mehr hunderprozentig rund laufen. Wir möchten hier kurz die am häufigsten auftretenden Probleme erörtern, die beim Installieren oder Starten von C&C Generals oder dem Addon auftreten könnten.
Installiert C&C Generals / Zero:Hour auf Windows 7
Startet euren Windows Explorer und öffnet die Installations-CD/DVD damit. Rechtsklickt auf die "setup.exe" und wählt "Eigenschaften". Wechselt in den Reiter "Kompatibilität" und wählt dort beim Kompatibilitätsmodus Windows XP Service pack 3 aus und aktiviert das Kontrollhäkchen, sowie das Häkchen "Programm als Administrator ausführen". Wählt nun OK zum speichern der Einstellungen und startet die Datei.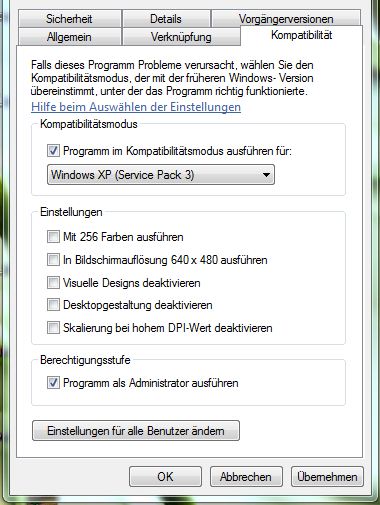 Ist die Installation beendet, solltet ihr das Spiel auf die neuste Spielversion updaten. Der aktuelle Patch ist die Version 1.8, die letzte Stunde Null Version ist die 1.04. Ihr könnt diese Patches in unserem Downloadbereich finden. Die heruntergeladenen Patchinstallationsdateien sollten ebenfalls als Administrator ausgeführt werden. Klickt hierzu mit der rechten Maustaste auf die Datei und wählt "Als Administrator ausführen". Nutzt ihr die das Installationsmedium von "The First Decade", so soltet ihr unbedingt den "The First Decade" Patch anstelle der oben genannten Updates verwenden. Diese "First Decade" Installationsdateien sind bereits aktualisiert!
C&C Generals / Zero:Hour unter Windows 7 starten
  Gehe in dein Installationsverzeichnis und setze die Kompatibilität erneut auf "als Administrator ausführen" bei der "Generals.exe", genau so wie wir dies schon zuvor bei der "Setup.exe" gemacht haben. Starte das Spiel, mach dir keine Sorgen, wenn du eine Fehlermeldung erhälst, das Problem lösen wir! Gehe in deinen Dokumentenordner (Standard ist C:BenutzerBENUTZERNAMEEigene Dokumente) dort findet ihr einen Ordner "Command and Conquer Generals Daten" und/oder "Command and Conquer Generals Zero Hour Daten" oder ähnlich. Gehe in dieses Verzeichnis und mache einen Rechtsklick in den freien Bereich und wähle "Neu">"Text Dokument" öffne es und kopiere den folgenden Text in das Dokument:
    AntiAliasing = 1
BuildingOcclusion = yes
CampaignDifficulty = 0
DynamicLOD = yes
ExtraAnimations = yes
GameSpyIPAddress = 0.0.0.0
Gamma = 50
HeatEffects = yes
IPAddress = 0.0.0.0
IdealStaticGameLOD = Low
LanguageFilter = false
MaxParticleCount = 5000
MusicVolume = 70
Resolution = 1024 768
Retaliation = yes
SFX3DVolume = 70
SFXVolume = 70
ScrollFactor = 60
SendDelay = no
ShowSoftWaterEdge = yes
ShowTrees = yes
StaticGameLOD = Custom
TextureReduction = 0
UseAlternateMouse = yes
UseCloudMap = yes
UseDoubleClickAttackMove = no
UseLightMap = yes
UseShadowDecals = yes
UseShadowVolumes = yes
VoiceVolume = 70
WICHTIG!   Speichere nun diese Textdatei unter dem namen "options.ini" in das Command and Conquer Generals Data / Command and Conquer Generals Zero Hour Datenverzeichnis. Das "Neue Textdokument" kann jetzt gelöscht werden.