Mehr zu C&C Generals
BPjM nimmt Generals vom Index
---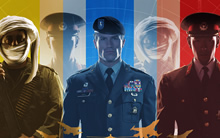 1. Oktober 2013 von moby3012
---
Die Bundesprüfstelle für jugendgefärdende Medien nimmt "Command & Conquer: Generals" vom Index. Endlich wieder GBA statt IBG!
Ab dem heutigen Tag muss in deutschen Medien nicht länger von "Command and Conquer: Generäle" gesprochen oder "(deutsche Version)" an den englischen Titel angehängt werden.
Seit gestern, dem 30. September 2013, ist der Titel nach nahezu zehn Jahren vom Index für jugendgefährdende Medien gestrichen. Kurz nach der Veröffentlichung von Generals im Jahr 2003 wurde der Titel im Zuge des sich anbahnenden Irak-Kriegs indiziert. Die BPjM kritisierte damals insbesondere die "rücksichtlose, menschenverachtende und unbarmherzige Gesinnung" die im Spiel zur Schau gestellt wurde. EA reagierte rund zwei Wochen später mit der Veröffentlichung einer stark geschnittenen Version, in welcher Videos verändert und Sequenzen entfernt, sowie Menschen durch Cyborgs ersetzt wurden. Die zweite Mission der GLA Einzelspielerkampagne wurde sogar ersatzlos aus dem Spiel entfernt. Diese stark geschnittene und veränderte Version ist bis heute als Bestandteil der "Die ersten zehn Jahre" Compilation von Command and Conquer im deutschen Handel zu finden.
Deutsche Command and Conquer Fans sollte diese Meldung freuen. Damit spricht fast nichts mehr dagegen, dass EA auch erwachsenen, deutschen Spielern die ungeschnittene Version über Origin zugänglich macht. Wer sich für die Unterschiede zwischen der geschnittenen deutschen und internationalen Version interessiert kann auf Schnittberichte.com eine detailierte Analyse finden. Seit dem gestrigen Tag dürfte diese Seite hoffentlich nur noch von historischem Interesse sein.
---
Kategorie(n): News | Tag(s): | Spiel(e) C&C Generals News,
---