Mehr zu C&C Tiberium Alliances
Bei 21 Basen ist Schluss
---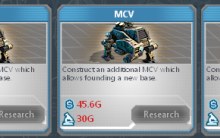 17. September 2012 von moby3012
---
Brandneue Infos zum Basenerforschen. Es geht doch nicht bis unendlich. Neben der Hauptbasis kann ein Spieler pro Welt nur 20 weitere Basen erforschen.
Durch einen Bug beim heutigen Patchvorgang haben mehrere Spieler ~100G Credits zusätzlich erhalten. Bei einigen Spielern hat dies zur Erforschung der 21igsten Basis geführt, auf Nachfrage, warum keine weitere möglich wäre hat Skyther dann die Bombe platzen lassen. Entgegen anderslautender Aussagen zum Spielstart ist die maximale Anzahl der Basen limitiert.
Hello there

I have just talked to the devs about this.

The number of bases is in fact limited to 21 bases, which means 1 starting base and 20 researched bases. The devs don´t want to implement the ability to research more, because there is actually no need to have more bases than that and it would make specific players too powerful. I have also asked, if it was like that just from the beginning, and they told me, that it was like that right from the start of the game. So, i was in fact wrong, when i said, that they were unlimited and i apologize for that and any inconvenience this might have caused.
Sad Greetings, Skyther
via

Kurzübersetzung: Man kann nur 20 Basen erforschen + die erste Basis macht das 21 Basen. Grund: Spieler würden zu stark werden. Die zu Anfang des Spiels rausgegebene Information es gäbe unendlich war falsch, sie waren schon von Anfang an limitiert.
---
Kategorie(n): News | Tag(s): | Spiel(e) C&C Tiberium Alliances News,
---