Mehr zu C&C Alarmstufe Rot 2
TMG Alarmstufe Rot 2 Cup
---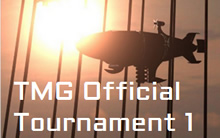 3. August 2012 von moby3012
---
The Meeting Grounds veranstaltet ein Alarmstufe Rot 2 Klassikturnier mit einem geplanten 16-Spielergrid. Die Ideale Gelegenheit den alten – fast – angestaubten Klassiker noch einmal hervorzuholen, oder?
Es wird das klassische Alarmstufe Rot 2 ohne Addon gezockt und es wird angepeilt 16 Spieler zu finden um den Turniergrid zu füllen. Das Spiel wird vom TMG Team beobachtet. Es wird immer jeweils eine von 4 Maps im best of 3 Modus gespielt. Cheats und Exploits sind selbstverständlich verboten und um Exploiting nachvollziehen zu können sind alle Spiele mit dem XGS Recorder aufzunehmen. Mehr Informationen zum Turnier, welches startet sobald 16 Interessierte Spieler gefunden sind findet ihr hier!
Aber beeilt euch, denn 13 der 16 Plätze sind bereits vergeben!
---
Kategorie(n):
News
| Tags:
eSports
---