Mehr zu C&C Remastered Collection
Remastered League – Details (Modus, Game, erster Preis)
---

9. Mai 2020 von moby3012
---
Vor etwa einer Woche haben wir mit dem ersten Teaser zu unserer Remastered League den virtuellen Startschuss gegeben und nun gute vier Wochen vor Release der Command and Conquer Remastered Collection wollen wir schließlich mit einigen ersten Details zum gespielten Spiel, dem Modus und dem Hauptpreis zu unserem Event dienen.
Wir werden die erste Saison der Remastered League im Spiel Command and Conquer Der Tiberiumkonflikt absolvieren, d.h. es wird für die Dauer von drei Monaten alle zwei Wochen jeweils ein Single Elimination Turnier im ersten Command and Conquer in der Remastered Fassung geben. Für jedes Turnier werden dann Punkte ausgeschüttet (die Anzahl der Punkte wird noch bekanntgegeben) und in einer Rangliste addiert. Der Sieger der Rangliste nach 6 Turnieren ist der Champion der ersten Saison und kann sich über folgenden exklusiven und wertvollen Preis freuen:
(Dies ist ein Originalring aus dem damaligen limitierten Merch-Sortiment und keine Fankopie z. B. von etsy)
Der Preis für den zweiten Platz wird gesponsert von unseren Freunden von printed-armies.com. Es handelt sich um einen exklusiven und auf 200 Stück limitierten, so nicht erhältlichen Panzerdruck aus dem 3D-Drucker aus der Kollektion von Printed-Armies. Der rechte Panzer im Bild ist gemeint: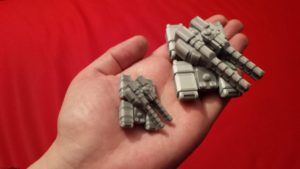 Mehr Details zur Anmeldung, Punktesystemen, Turnierterminen und einzelnen Turnierpreisen erfahrt ihr in den kommenden Wochen entweder immer mal wieder Freitags im Livestream, bei unserem Partner Amars90 auf Twitch oder am darauffolgenden Tag hier bei uns.
---
Kategorie(n): News | Tag(s): Events, eSports | Spiel(e) C&C Remastered Collection News,
---