Mehr zu Renegade X
Neues zum RenegadeX Multiplayer!
---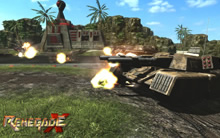 11. August 2012 von moby3012
---
Nachdem man im Januar den Singleplayermodus des Standalone First Person Shooters herausgegeben hat gibt es nun Neuigkeiten zum lang erwarteten Multiplayermodus zu verkünden!
Der Renegade X Singleplayermodus "Operation Black Dawn" kam im Januar sehr gut bei der Community an. Doch das Fan-Entwickelrteam hat im letzten halben Jahr nicht etwa gefaulenzt sondern den lang erwarteten Multiplayermodus gebastelt und ist mittlerweile in der internen Testphase angekommen. Die Macher von Renegade X sind mit den internen Tests durchaus zufrieden und freuen sich darauf in Kürze ein Releasedate zum Multiplayergame bekanntgeben zu dürfen.
And we're glad to be back! After the Black Dawn release, our team took a much needed break to recharge our batteries and study how Black Dawn was received by our audience (and just to get away from it all). Sometimes a developer needs to take some time away (like a shower, or maybe a vacation) just to take a step back and fully process everything. We're constantly looking for new inspirations in the world, both RL and gaming, to improve upon the Renegade X experience. After our break, we got back to business – as usual, we like to start things off silently and secretly just to keep everyone on their toes.
Übrigens gab es neben dieser Rückmeldung auch ein neues Gesuche für einige Programmierer und weitere Ausschreibungen für Stellen und einige Bilder, die ihr in unserer RenegadeX Galerie finden könnt!
Den ganzen Blogpost findet ihr auf der Renegade X Homepage!
---
Kategorie(n): News | Tag(s): Mods | Spiel(e) Renegade X News,
---