Exklusiv: Weitere Bestätigung: Neues Command and Conquer noch dieses Jahr?
---

17. Juni 2020 von moby3012
---
Wir waren uns bisher zwar schon sicher, doch nun kommt eine Bestätigung, die der United-Forum User @Lunak auf Youtube entdeckt hat. Stellt man auf Youtube ein neues Video ein, gibt es die Möglichkeit seinem Video ein zugehöriges Spiel zuzuweisen. Dabei fiel ihm auf, dass in der Spieleauswahl neben Command and Conquer Remastered Collection auch ein weiteres Spiel des Franchises für 2020 angezeigt wird.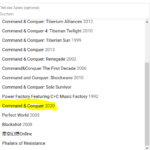 Spiele werden dort nur von den Publishern eingetragen. Wir werden also nicht nur morgen auf der EAPlay ein nagelneues Command and Conquer sehen, sondern dieses wird aller Vorraussicht nach sogar noch in diesem Jahr erscheinen! Mehr dazu morgen!
---
Kategorie(n): News | Tag(s): E3, Spekulationen
---