In der ersten C&C 2013 Ausgabe von Ask a Developer stellt sich Chris Tamburrino den Fragen der Community und bringt einen Schwung an neuen Bildern und Konzeptzeichnungen mit.
Im neuen offiziellen C&C Blog gibt es ein Interview von Art Director Chris Tamburrino mit einigen von der Community eingesendeten Fragen. Fast alles dreht sich um die Grafik und die Konzepte und Ideen hinter den Designs im Spiel. So erklärt Chris, auf welche Punkte beim Design der einzelnen Einheiten der Fraktionen geachtet wurde, wie mit den Ingenieuren beim Gameplaydesign zusammengearbeitet wird und welche Konzepte hinter den Mapdesigns stecken.
Q. What are the influences behind the designs for each faction?
Our main goal for the design for each faction was to create 3 unique looks that would allow players to quickly distinguish them on the battlefield. It was also important that their respective looks be indicative of the play styles for each faction. Here's a closer look at our visual design criteria for each of the factions:
EU
The most advanced looking faction
We use current or experimental military vehicles for reference
Introduce angular shapes that convey sleekness
Final unit designs should appear fast, efficient and well maintained
Structures are constructed modularly and the functionality drives the overall design
GLA
The most heavily modified faction
Both civilian and military vehicle references are used for inspiration
Create an identifiable chassis and combine elements from other vehicles and weapons
Add welded plates and equipment in large amounts
Final unit design should be an asymmetrical blend of parts to form a coherent whole
Structures are a mix of repurposed building materials that are hastily a assembled into a ragged form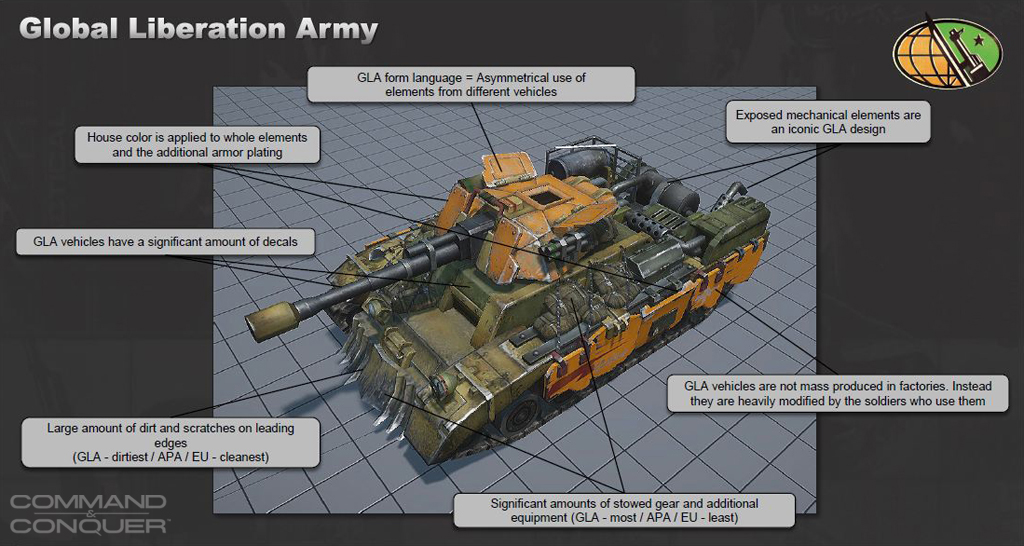 APA
The heaviest, most solid looking faction
Current Soviet or Chinese military vehicles are used for reference
We create a solid chassis then introduce rounded elements
Add significant amounts of armor plating and stowed gear
Final unit design should be appear strong and built for survivability on the battlefield
Structures are inspired by traditional Asian architecture but built from reinforced steel girders and concrete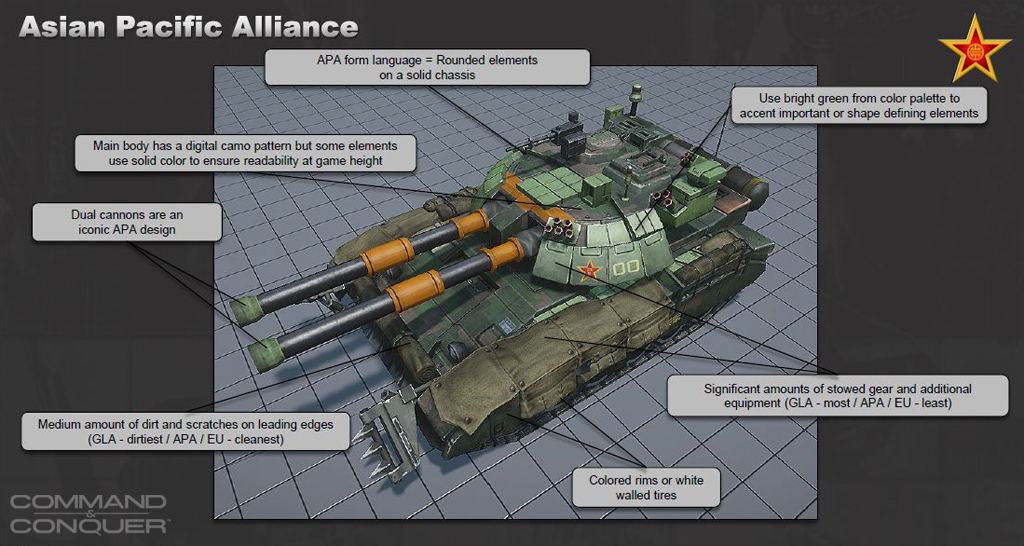 Q. What kinds of different hi-end graphical effects are we going to see besides physics?
We're aiming to take full advantage of Frostbite's capabilities where it makes sense for an RTS, so our focus is on dynamic effects that will bring the environment to life while keeping the action readable.  Expect to see high-quality ambient occlusion (HBAO), wind effects for vegetation, reflections, and a diverse range of weapon and destruction effects.
Q. What kind of custom graphic skins will be available for purchase?
Here's a sneak peak at one of the custom EU skins we are working on. The tank on the left is the basic EU version and the one on the right is an urban camo version.
Q. How do the art developers cooperate with the gameplay developers/designers when creating a unit?
The creation of a unit is a highly collaborative effort between art and design.  Designers identify a gameplay need and a list of potential abilities and upgrades.  From there, the art team creates concept sketches that take into consideration the stylistic traits of a given faction along with the gameplay role.  These sketches are passed around between the art, design and engineering teams and their feedback is used to refine the unit design.  This phase is complete when we arrive at a unit design that clearly indicates the unit or structure's gameplay role and visually fits alongside the other units of the same faction. From there it's onto the modeling, animation, vfx and technical art teams to create the in-game version. Simultaneously,  engineers are working to develop the unique abilities or gameplay functionality for the unit. There are numerous review points along the way, but the real test is when the unit enters into one of our many team wide play tests. At this point, the design team takes ownership and begins the long process of tuning the gameplay to achieve a balance with all other units. And the cycle begins again for the next unit…
Q. What kind of thinking went into creating the look for the maps and environments?
A great deal of thinking went into the look of our environments. With C&C being set in the Generals universe, we felt that a greater sense of realism was appropriate.  As a result, we set out to create a believable world that also allows for a large number of units to easily path through it.  Layout challenges aside, we strive to give each map a visual theme. This adds context to the gameplay but also deepens the player experience by allow us the opportunity to add visual storytelling elements. Our environments are meant to be places, not playgrounds.
We also benefit greatly from the lighting capabilities within Frostbite engine. It allows us a fantastic range of options to illuminate our maps and establish a mood.
Currently, our environments are all set in an African / Middle East locale. In the future, we fully intend to develop maps in other parts of the world. Here are a few environmental concept images that indicate the types of regions and overall tone we intend to pursue: