Mehr zu C&C Tiberium Alliances
Änderungen am Wirtschaftssystem
---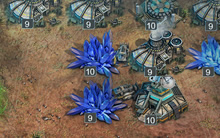 22. März 2012 von moby3012
---
Skyther, EA Community Manager bei Phenomic startete heute im offiziellen Forum den aktuellen Hot Topic of the Week #3. Dieses Mal kündigt Phenomic einige Änderungen am Wirtschaftssystem von C&C Tiberium Alliances an. Der Fokus liegt vor allem darauf, die Transparenz, wie das System funktioniert klarer erkennbar zu machen.
So werden die Verbindungstypen zwar nicht verändert, das bedeutet ein Kraftwerk wird nach wie vor von einem Akkumulator geboosted, doch werden vor Allem beständig zusätzliche Ressourcen erzeugt, anstelle von Bonus Paketen. Mehr Informationen können dem Post von Skyther entnommen werden, den wir für euch übersetzt haben.
Wir haben das Wirtschafts-Bonussystem überarbeitet, um es transparenter zu gestalten.

– Die Verbindungstypen bleiben exakt so wie zuvor (zum Beispiel das mit dem Akkumulator verbundene Kraftwerk, welches zusätzliche Energie generiert)

– Verbindungen zwischen den Gebäuden erzeugen nun beständig zusätzliche Ressourcen anstelle von Bonus-Paketen. Die Höhe der zusätzlichen Ressourcen wird in jedem Gebäude angezeigt. Die komplizierten Regeln der Bonus-Pakete, gerade was deren Timing anbetrifft, wurden entfernt.

– Rohstoffgebäude produzieren Rohstoffpakete, durch Verbindungen mit entsprechenden Nachbargebäuden gibt es als Bonus kontinuierlich zusätzlich Rohstoffe.

– Falls Ihr einen Mangel an einer bestimmten Ressource habt, so wird die benötigte Zeit, bis die Ressource in ausreichendem Maß verfügbar ist, wesentlich präziser angezeigt weil die sammelbaren Bonus-Pakete mit eingerechnet werden. Es wird der frühestmögliche Zeitpunkt, an dem die Basis über ausreichende Mittel verfügen wird, angezeigt werden.

– Ein neuer Button, der automatisch alle verfügbaren Ressourcen-Pakete mit nur einem Klick einsammelt, wird verfügbar sein, sobald die Spieler die Fähigkeit erlernt haben, eine zweite Basis zu gründen.
Was haltet ihr von diesen Änderungen? Findet ihr es gut, dass bald alle Ressourcenpakete mit einem Klick eingesammelt werden können oder findet ihr, dass diese Komfortfunktionen unnütz sind?
---
Kategorie(n): News | Tag(s): | Spiel(e) C&C Tiberium Alliances News,
---